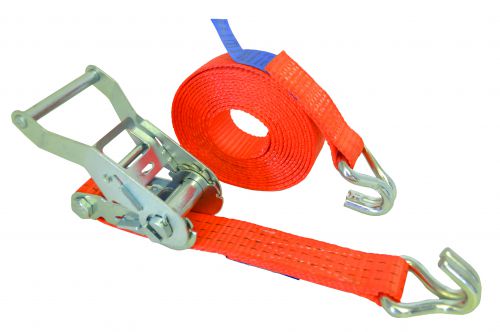 Light Duty Ratchet Strap. Allows goods to be secured when in transit. Strap width 25mm; length 4.5m. Breaking strength 750kgs. Conforms to EN12195-2.
Manufacturer Spectrum Industrial
Description
Specifications
Downloads
selection not available, try a different combination
selection not available, try a different combination
Description
Ratchet Straps are some of the most versatile tie-downs available and can be used in a range of applications. They play a vital role in the haulage industry to ensure the safe securing of loads, but they are also perfect for Leisure, Farming, Storage, Shipping, Travel, Transport and Towing. Ratchet Strap 25mm x 4.5m with a breaking strength of 750kgs, designed to allow loads to be secured safely when transported. Made from high quality PES (polyester) webbing for extreme durability and minimal stretch, with a high-grade rust resistant zinc plated handle and spring gear with easy release mechanism and strengthened zinc plated axle with heavy duty end cap to ensure they can handle the toughest jobs time after time. Supplied with a rubber coated S Hook mechanism. Conforms to EN 12195-2.
Recommendations
Goes Together
You may also like