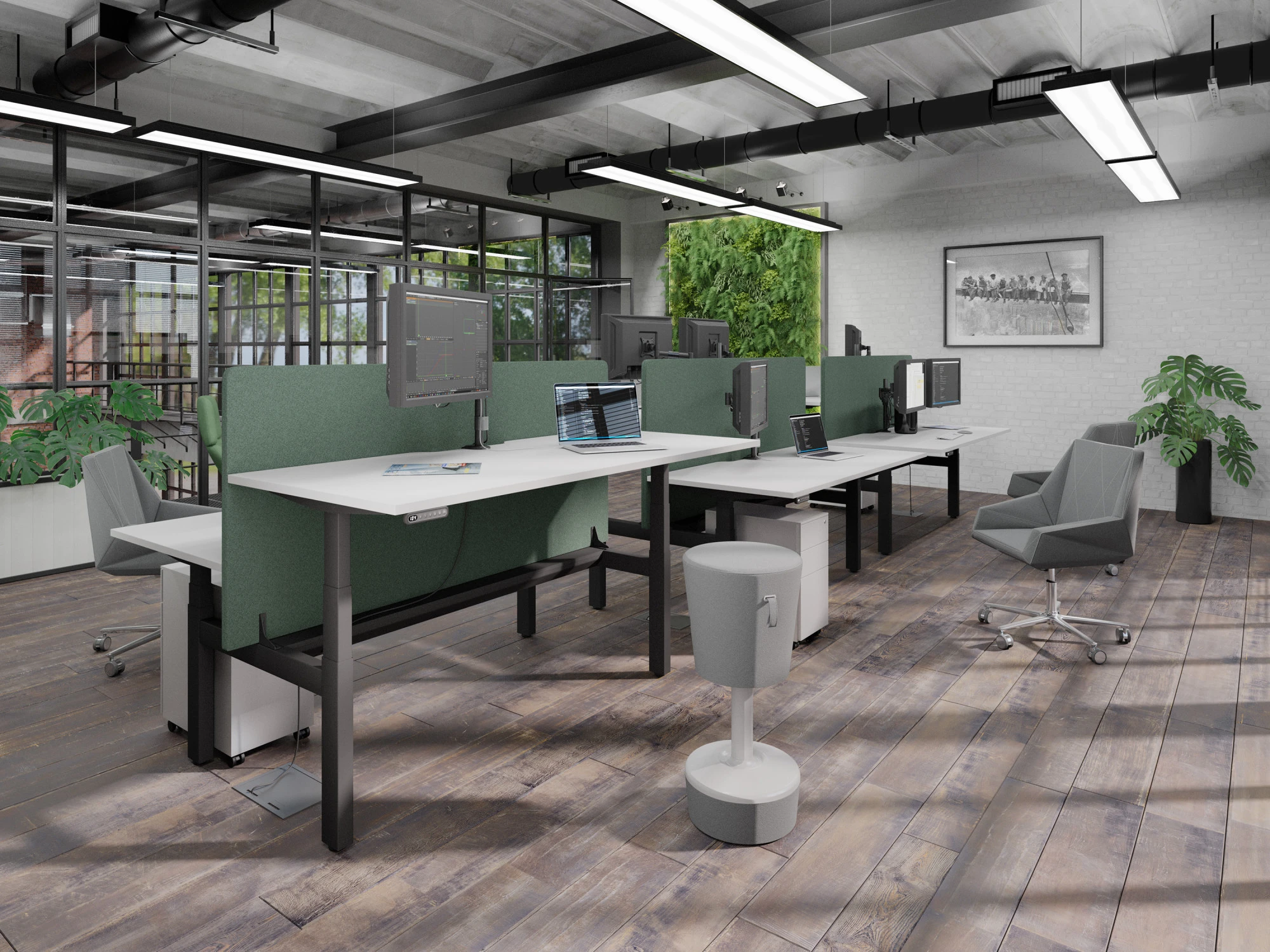 Introducing the leap sit-stand desk
Medical research has found that sitting for long hours can increase your risk of chronic health problems, such as heart disease and diabetes while also affecting your mental health.

At Codex we have a range of sit-stand desks that will not only help keep your mind sharper but reduce unnecessary strains on the body.
3D
CONFIGURATOR
Get a better look at the LEAP range with our new 3D configurator. Design your own desk and have access to high quality 3D rendered images, PDF spec sheet, a variety of colours, materials and additions - all at the click of a button!
Try out our
demo
below and see which desk would suit your needs.
Inspiration
LEAP offers an incredibly versatile desking range making it incredibly popular for work environments. Included in the range are single and bench options to build the perfect office space. You can also choose from three metal frame colours (Silver, White and Black) and enjoy a variety of wood panel tops. LEAP compliments other furniture ranges we offer such as KITO storage, Dourest ergonomic seating and M100/M200 monitor arms.
Why not take a look at our inspiration gallery below to see how LEAP could work in your office?
Why a LEAP Sit-Stand Desk?
Ergonomists suggest we stand for at least 20% of our working day. Our bodies love variation and there are many physical as well as mental advantages to working at a sit stand desk as opposed to a fixed height desk. LEAP's innovation and design help prevent problems associated with prolonged sitting while greatly improving your wellbeing and productivity. Below are some of the key innovative features of LEAP's SitStand desks
Programmable Memory
The desk features a 3-Button Memory Master Control Panel – this control panel comes with 3 memory features which enables the user to save their preferred sitting and standing heights using the memory function. The LED of the handset also displays the height of the desk for the user.
Six Axis Software
Six Access Anti-collision software – this is software that is built into the control box that ensures that if the desk meets an obstruction, as a safety feature, it reverts to the position is came from. For example, if you are lowering your desk and it meets a pedestal, the desk will bounce back up away from the pedestal to avoid damage being done.
Adjustable Height
LEAP frames can be manually expanded to accommodate tops from 1200mm to 1800mm in width and electronically adjusted from 655 to 1255mm in height, all at the touch of a button with the touch-sensitive controls.
Certification
Tested to EN527-1:2011 and EN527-2:2016 including motor durability test.
Complies with EMC Directive.
Complies with Low Voltage Directive.
Complies with RoHS Directive (Reach and PAHs).
WEE Certified.