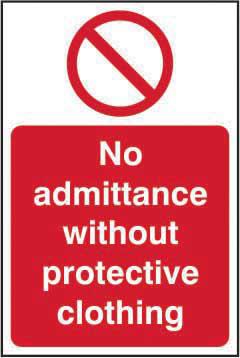 Prohibition Rigid PVC Sign (200 x 300mm) - No Admittance Without Protective Clothing
Manufacturer Spectrum Industrial
selection not available, try a different combination
selection not available, try a different combination
NEED MORE PRODUCT ADVICE?
Our team of experts are here to help you with any product queries you may have
Description
No Admittance Without Protective Clothing sign is a 200mm x 300mm restricted access sign made from rigid 1mm PVC Board, making it easy to apply to a clean dry surface. All our signs conform to the BS EN ISO 7010 regulation, ensuring that all graphical safety symbols are consistent and compliant.