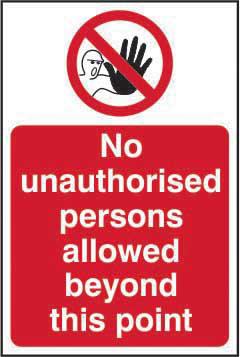 Prohibition Rigid PVC Sign (200 x 300mm) - No Unauthorised Persons Allowed Beyond This Point
Manufacturer Spectrum Industrial
selection not available, try a different combination
selection not available, try a different combination
NEED MORE PRODUCT ADVICE?
Our team of experts are here to help you with any product queries you may have
Description
No Unauthorised Persons Allowed Beyond This Point sign is a 400mm x 600mm restricted access sign made from rigid 1mm PVC Board, making it easy to apply to a clean dry surface. All our signs conform to the BS EN ISO 7010 regulation, ensuring that all graphical safety symbols are consistent and compliant.